Ryan Costello
Chair of the Board
Ryan Costello previously served in the United States Congress from 2015 to 2019, where he focused on digital commerce and technology issues, including privacy, Internet of Things (IoT), cyber security and healthcare IT. Prior to Congress, he served as a Township and County official who regularly dealt with vendors in the technology services procurement process. Mr. Costello also previously served on his local hospital's board of directors. He is now a consultant in Washington D.C., advising energy, technology and healthcare companies on public policy issues involving the federal government.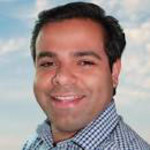 Rahul Mewawalla is a digital, product, technology and business leader. He has extensive strategic and operational leadership experience across digital, product, technology, platforms, internet, software, technology, telecommunications, financial services and media companies. He has held President, CEO, Chairman of the Board and various other executive leadership roles. His experience is across both large public companies and high growth private companies, including media, technology and mobile majors such as NBCUniversal / General Electric, Yahoo! and Nokia Corporation. Mr. Mewawalla has served as Senior Advisor to the San Francisco Mayor's Office on Innovation, as Advisor to Stanford University's Persuasive Technology Lab and was named "Top 40 under 40" in San Francisco. He has also been a board member, investor and advisor to various other public and private companies and philanthropic organizations.
Since July 2016, Mr. Chen has served as chief financial officer of Kent Moore Capital, an investment and advisory firm focused on specialty finance, where he also currently sits on the board of directors. Also, since 2016, he has served as chief financial officer of BioIntegrate, a regenerative medicine company. Mr. Chen has been involved in blockchain related projects since 2018, and, in 2021, he co-founded IHBit Global, a diversified blockchain holding company with assets including a crypto exchange, token project, electronic sports team and basketball team. From 2012 to 2016, Mr. Chen was a director for Hudson International, a global private investment firm. From 2008 to 2012, he led the emerging markets investment banking team at Oppenheimer Investments North America. Prior to joining Oppenheimer, Mr. Chen was a Vice President at J.P. Morgan. Mr. Chen has a B.S. degree from Brown University.