Alan S. Knitowski
President, CEO & Co-Founder
Alan is a successful serial entrepreneur with multiple exits over a 15 year period to companies including Cisco Systems (NASDAQ: CSCO), Level 3 Communications (NASDAQ: LVLT) and Internet Security Systems (now NYSE: IBM). He is a 2014 Finalist for the Ernst and Young Entrepreneur Of The Year Award for Central Texas and has been a Founder, Executive, Angel Investor and Fund Manager throughout his career in the private sector after serving in the United States Army as an Airborne, Air Assault and Ranger qualified Captain in the Corps of Engineers.
Alan has also built and managed companies that have won both regional and national awards for growth, including # 4 on the 2014 Deloitte Technology Fast 500 for North America, # 82 on the 2014 Inc. list of the 500 Fastest Growing Companies in the United States (and # 40 on the 2013 list), # 36 on the 2014 Forbes list of America's Most Promising Companies, # 1 on the 2013 ABJ Fast50 list of the 50 Fastest Growing Companies in Central Texas and # 2 on the 2008 Deloitte Technology Fast 50 for Orange County.
As a mobile and multiscreen industry expert, Alan is frequently quoted in trade publications, serves as a panelist at industry events and writes for the Wall Street Journal's Accelerators Blog.
Previously, Alan was President of Alternative Investments for Curo Capital LLC and Managing Director for Trymetris Capital Management LLC. In the past, he was a Co-Founder and Director of Telverse Communications, a next-generation advanced services ASP focused on wholesale communications services for carriers and service providers, which was acquired in July 2003 by Level 3 Communications.
Before this time, Alan was Director of Marketing for the Voice Technology Group at Cisco Systems and was responsible for business, market and community development, including business planning and strategy for Cisco's global packet communications initiatives. In November 2000, Alan joined Cisco as part of the Vovida Networks acquisition, where he served as Co-Founder, President and Chief Executive Officer and led the company from idea conception through its eventual acquisition by Cisco.
Alan holds an MSIE degree from the Georgia Institute of Technology, an MBA degree from the University of California at Berkeley and a BSIE degree from The U. He lives in Austin, Texas, and serves on the President's Council at the University of Miami (FL).
Luan Dang
Chief Technology Officer and Co-Founder
Luan is a successful serial entrepreneur, author, inventor and technologist, with post-internet and technology bubble exits to such companies as Cisco Systems (NASDAQ: CSCO), Level 3 Communications (NASDAQ: LVLT) and Hewlett-Packard (NYSE: HPQ). Previously he was President of Strategic Investments for Curo Capital LLC and President of Alternative Investments for Trymetris Capital Management LLC.
He was also a Director of Engineering at Linksys, a subdivision of Cisco Systems, overseeing the development of Voice-over-IP (VoIP) products and strategies. At Linksys, he grew the VoIP product line from $0 to $150M in 12 months, making it the fastest-growing product line in Linksys and Cisco history to achieve 1M ports shipped. Luan came to Cisco through its acquisition of Vovida Networks, where he served as Co-Founder, Executive Vice President and Chief Technology Officer.
In the past, Luan was an Angel Investor in Vonage (NYSE: VG) and an Angel Investor and Advisor to both Telverse Communications, a next-generation advanced services ASP focused on wholesale communications services for carriers, service providers and value-added resellers (acquired in 2003 by Level 3 Communications (NASDAQ: LVLT)), and vCIS, a proactive software behavior analysis and anti-virus security company (acquired by Internet Security Systems (NASDAQ:ISSX) in 2002), before it was subsequently acquired by IBM (NYSE: IBM) in 2006.
Additionally, he was a Founding Member of the Technical Advisory Board of both the Open Multimedia Protocol Alliance (OMPA) and the International Softswitch Consortium (ISC) in 1999, which were subsequently merged and scaled to nearly 200 companies prior to renaming itself to become the International Packet Communications Consortium (IPCC) in 2003. Luan worked in various operational and technical roles with Nortel Networks and Unisys. He has over 15 years of experience in the communications industry and has also co-authored a book entitled Practical VoIP currently used as a core textbook for teaching VoIP system development in universities worldwide.
Luan holds patents on display screen management apparatus (1997) and caller IP (1998) and has three other patents currently pending. He holds an MS in computer science from Stanford University and a BS in computer engineering from the University of California at San Diego. Luan resides in Newport Beach, California, with his wife Linh and their three young children, and serves as a member of the Central Texas Angel Network and Austin Technology Council.
Randall Crowder
Chief Operating Officer
Randall is passionate about new venture creation and the innovative spirit that fuels entrepreneurs and advances in technology. As an active investor and entrepreneur, he understands what it takes to successfully launch and grow a new business. He regularly publishes articles and speaks on entrepreneurship, venture capital, healthcare and the rise of blockchain technology and cryptocurrencies.
Over the past decade, Randall has led over 40 angel investments and deployed over $60M across 14 companies as a venture capitalist. Randall is a co-founder and Managing Partner at TEXO Ventures where he focused on tech-enabled health services and he is the sole founder and Managing Partner at Novē Ventures where he focuses on investing in existing companies looking to leverage blockchain technology. Prior to TEXO, he led the Central Texas Angel Network (CTAN) to becoming one of the most active angel networks in the country. Randall also founded and launched Texas Venture Labs (TVL) at UT in order to give the next generation of investors unique experiential learning opportunities outside of the classroom.
Before getting involved in venture and entrepreneurship, Randall was a Captain in the United States Army and is both Airborne and Ranger qualified. He served over six years active duty and deployed twice in support of Operation Iraqi Freedom where he was awarded two Bronze Stars for his actions during combat operations.
Randall holds a BS from the United States Military Academy at West Point and an MBA from the McCombs School of Business. He is also a Kauffman Fellow and member of the Young Entrepreneur Council (YEC).
Matt Aune
Chief Financial Officer
Matt has over 15 years of finance experience, primarily in planning and accounting, within the software and technology industries. He brings a strong background in financial modeling, strategic analysis and software development budgeting to Phunware. Prior to joining Phunware, Matt worked for Sony Computer Entertainment leading their global technology finance group and served as head of worldwide financial planning and analysis at Midway Games.
During his time in the entertainment and video game software industries, Matt was involved in many different aspects of the business, including M&A, product planning, product development outsourcing, P&L management and studio operations. Prior to joining the workforce, Matt played professional basketball in China. Matt holds an MBA from San Diego State University, a BA in Economics from the University of California, San Diego and resides in San Diego with his wife Heather and their two children, Jackson and Ella.
Tushar Patel
Executive Vice President of Corporate Development
Tushar is formerly CEO of Simplikate, a Phunware acquisition. He has been a CEO over the past 25 years for various technology based companies. He is fascinated with identifying brilliance through simplicity. His career is focused toward merging efficient well tuned Intellectual Property and Companies together to create a "whole" that exceeds the sum of its parts.
In the 1990s, Tushar founded a web company out of his spare bedroom by teaching himself to code. He hand-built Nokia's first ever global website that subsequently launched several other Fortune 5000 companies' first web presences. Through clever and rapid M&A, he merged with other small web shops into USWeb to become the de facto standard for corporations to consume all their web needs through a single organization culminating in an IPO that valued the group at over $1billion within 2 years.
Tushar soon became an investor and Director of the Board for Photonics Systems which supplied high resolution displays to the US Air Force ( N.O.R.A.D. ) and the US Navy ( Aegis Class Destroyers ). He also served as a Consultant to the US Congress and formally testified before the House Judiciary Committee to help draft the Digital Millennium Copyright Act of 1998 ( DMCA ). His testimony is part of the Official Congressional Record and is referenced regularly in digital copyright cases to this day.
His next venture, Simplikate, created B-to-B mobile solutions in 2002, before "Apps" were Apps, on a Palm Zire 71. Eventually those solutions evolved with the advent of the iPhone into a mobile platform that launched the very first Smartphone Apps for the leading Malls, Airports and Luxury Hi Rises worldwide including Verizon FiOS.
Alan, Phunware's CEO, met Tushar as they pursued the same customer and after just one meeting between the two, they realized they both shared the same philosophy of finding partners who know how to say "Yes" ( saying "No" is easy ), so Phunware acquired Simplikate and closed in a record 6 weeks end to end.
Tushar's role at Phunware is to replicate this M&A success by evaluating and acquiring successful, entrepreneurial companies with proven multi year recurring revenue models that exponentially add fuel to Phunware's comet trail toward touching every connected device worldwide in a meaningful way through its platforms and to establish strategic licensing of Phunware's extensive home grown patent portfolio. Due to his extensive executive business experience, Tushar oversees all significant "deal" negotiations for Phunware and is the official Signatory Officer on all contracts.
On a lighter note, Tushar has also been a stand up comedian, national spokesperson and almost drafted by professional baseball as a south paw pitcher.
Matt Lull
Executive Vice President & Chief Cryptocurrency Officer
Matt has spent 30 years in technology and finance leadership roles, across a wide variety of Fortune 500 companies. He has a reputation as a person who can look around corners, envision a future that doesn't yet exist, quantify the opportunity value and then steward complex workstreams to turn that vision into reality.
Matt spent his early years as a consultant, crisscrossing the country for clients of Andersen Consulting, now Accenture (NYSE: ACN). His early roles included dozens of enterprise-grade, full-service, application design, development and deployment projects on mainframes, client server and web platforms, culminating with the advent of ERP and the technical and business agility efficiencies it delivered. While progressing through those many programming languages, platforms and use cases, Matt developed a keen ability to spot patterns, design efficient business practices and implement cutting edge solutions to help clients change to be more successful.
Citrix Systems (NASDAQ: CTXS) recruited Matt to help launch their first global partnership with SAP (NYSE: SAP), which marked the beginning of his transition towards sales, business development and ecosystem strategy. During nearly 20 years with Citrix, Matt was responsible for joint solution strategy with many of the world's leading technologies companies. At various times he has been responsible for developing and managing ecosystems which included all line-of-business application ISVs, as well as Citrix's core desktop virtualization infrastructure partners across servers, storage, networking, monitoring and security.
In 2009, Matt bet his career on his belief that Cloud Computing would be the next big thing. That bet paid off, as Matt became Citrix's Managing Director of Technology Strategy for Cloud Innovation Partners, and Citrix eventually placed its own big bet by shifting the entire company's core focus on cloud services.
Matt's conviction that the Decentralized Web is the next big wave in technology has brought him to Phunware, where he will focus on the intersection points between blockchain, decentralized finance (DeFi), mobile lifestyles and consumer data sovereignty. He has spent the last several years immersed in the communities of many leading protocols and derived countless insights, as he helped some thrive and watched others struggle to find their way through the complexities of tokenomics, product / market fit and governance. Matt is now fully focused on applying his combination of technology ecosystem, decentralized web and financial experience, for the benefit of Phunware customers, investors and digital asset holders.
Matt resides in South Florida, holds a BBA in Finance from the University of Miami, cum laude, and still spends the majority of his volunteer efforts in support of students at "The U". In addition to guest lecturing at Miami's School of Business, in 2021, the fraternal and sorority students of UM voted to recognize Matt as the Chapter Advisor of the Year. He also is on the Advisory Board of Bond Growth & Equity and is an avid skier, cyclist and swimmer, though his son Jack's varsity success in the pool has now relegated Matt to runner-up on the family race circuit.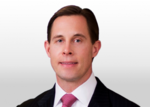 Chris Olive
Executive Vice President, General Counsel and Chief Legal Officer
Prior to joining Phunware, Chris was a partner for 15 years at Bracewell LLP in Dallas, Texas, an associate at Jones Day and served in the United States Army Judge Advocate General's Corps.
His diverse transactional and regulatory experience included representing clients in various capacities in, among other things, complex, bespoke and customized credit facilities, structured financings, swaps and derivatives, insurance finance, corporate acquisitions, financial instrument and commodity purchase and sale and repurchase transactions and related banking, financial and other regulatory matters.
Chris has a BBA in Finance with honors from the University of Miami, a JD from the Southern Methodist University School of Law and an LLM in Banking & Finance Law with distinction from the University of London.